---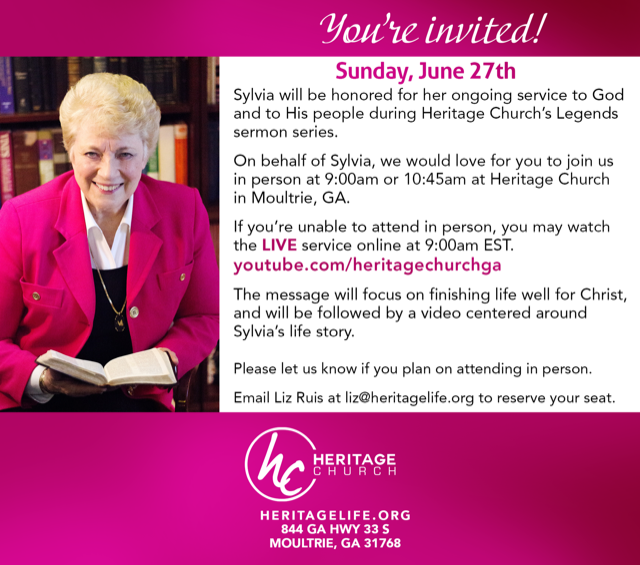 A Personal Note From Sylvia
Dear Friend,
It would be our delight to know that you have joined us for the special "Legends" event at Heritage Church in Moultrie, GA, this Sunday, June 27, either in person at 9:00 or 10:45, or by YouTube at 9:00 a.m.
For several years, Heritage Church has been dedicating the month of June to the theme of "LEGENDS" and the concept of "Finishing Well."  Since I'm not "finished" yet, they have most graciously chosen to include my "life story" (and principles) this next Sunday. They sent a team of videographers and interviewers from Moultrie, Georgia, to Lima, NY, to do the filming.  That is grace!
They have also invited me, as well as my assistant, Tess Watson, to come to Moultrie for the service.  Because I am still recovering from the serious heart attack in February, it has been a challenge to find freedom, strength, and peace to travel, but at this writing, I hope to be present in person, by the grace of God and in answer to many prayers. Meanwhile, I thank you sincerely for your prayers, your friendship, and your support for our ministry during this unusual season. We appreciate you!
                                                                                    Sending blessings your way,
                                                                                                   Sylvia
---
UPDATE FROM SYLVIA:  SUNDAY, MARCH 14, 2021
Here I am, friends! Still here! It's Sylvia, from my blue recliner, thanking you for your prayers and encouraging words, which have carried me day by day, night by night, and moment by moment since my life was dramatically interrupted and changed by a heart attack on February 15-16.
This has been a very different journey for me — ups and downs — sometimes feeling great, wanting to be "normal" and get on with "going" and "doing" and "teaching" and "preaching" and "lifting" and "driving" and "breathing" with freedom, but, in fact, still living "tentatively" and sometimes feeling quite insecure and uncertain, unlike myself — but "learning to be content" and truly grateful for just "being" and "trusting" and "receiving" — understanding dependence upon the ONE "in Whom we live and move and have our being" and accepting the help of others.
One of the things I have to deal with is the potential confusion between chronic esophageal spasms and heart symptoms. Assuming it was one (esophagus) when it was the other (heart) ALMOST cost my life on the evening of February 15, which became February 16 before I called for help at 1:30 a.m., more than 3 hours after the pain began. It is only the grace of God that I am here. Doctors said, "It is a good thing you came when you did."
And to think I ALMOST didn't go…. I thought the pain was lessening. It was a stormy night outside. I was feeling better….  
"Almost" is a very serious word. There's a story to tell of how a former student from long ago and far away sent a belated Valentine text that led to his being the one who persuaded me to call for help…and then to agree to go to the hospital when I ALMOST backed out.
"Almost" is a very serious word.
I hear a quote from the book of Acts echoing in my memory and a line from an old hymn singing in my mind — haven't sung it since childhood in the Old Stone Church of Depauville, NY — "Almost, but lost…." Gotta look it up! Never thought it would apply to me!
Remember when Paul was testifying before the magistrates, and King Agrippa confessed, "Paul, ALMOST thou persuadest me to be a Christian"?  (KJV)
Anyway, I was persuaded…and I did submit…and my life was saved. One medical person said, "You cheated 'the widow-maker'" ( the main anterior artery was 100% blocked, and the posterior was 80-90% blocked). Well, there would have been no WIDOWer, but I know that my Lord has given me a WINDOW of time to complete my mission on earth — and I welcome your continued prayers for me to do what is mine to do to get well and back into service, and for me NOT to do anything to complicate or delay the restoration process — and not to miss any signals along the way if I need to call for help again.
I give thanks
for my doctors, nurses, ambulance crews, and all in the medical field who have helped me;
for my family and my many, many friends near and far across the world who have been in touch;
for my faithful CWM team;
for my Elim family;
for our CWM intercessors and ALL who have prayed for me on prayer-lines and in churches and other ministries – or in their homes or cars…;
for all my former students and spiritual sons and daughters who are sending messages;
and for every individual person who has reached to me or has reached to Heaven on my behalf.
What a loving network in the Christian community! I am most grateful. Grace to each of you! My love to all…, and I'll be back on FACEBOOK LIVE as soon as doctors release me.
Please pass this on to anyone you know who is waiting to hear from me!
(https://creative-word.us/updates-from-sylvia/)
---

ALMOST PERSUADED
Philip Paul Bliss (1838-1876)
1
"Almost persuaded" now to believe;
"Almost persuaded" Christ to receive;
  Seems now some soul to say,
  "Go, Spirit, go Thy way,
  Some more convenient day
    on Thee I'll call."
2
"Almost persuaded," come, come today;
"Almost persuaded," turn not away;
  Jesus invites you here,
  Angels are ling'ring near,
  Prayers rise from hearts so dear;
    O wand'rer, come!
3
Oh, be persuaded! Christ never fails—
Oh, be persuaded! His blood avails—
  Can save from every sin,
  Cleanse you without, within—
  Will you not let Him in?
    Open the door!
4
"Almost persuaded," harvest is past!
"Almost persuaded," doom comes at last;
  "Almost" cannot avail;
  "Almost" is but to fail!
  Sad, sad that bitter wail—
    "Almost—but lost!"
5
Be now persuaded, oh, sinner, hear!
Be now persuaded, Jesus is near;
  His voice is pleading still,
  Turn now with heart and will,
  Peace will your spirit fill—
    Oh, turn today!
https://www.hymnal.net/en/hymn/h/1046/
When Billy Graham came to faith in Christ in 1937, he didn't go forward until 2 songs had been sung: "Just as I Am" and "Almost Persuaded". When the final verse of the 2nd song had been sung twice, he went forward. He was grateful that the man of God in the pulpit patiently waited for more responses to the invitation. – "How Sweet the Sound" by George Beverly Shea