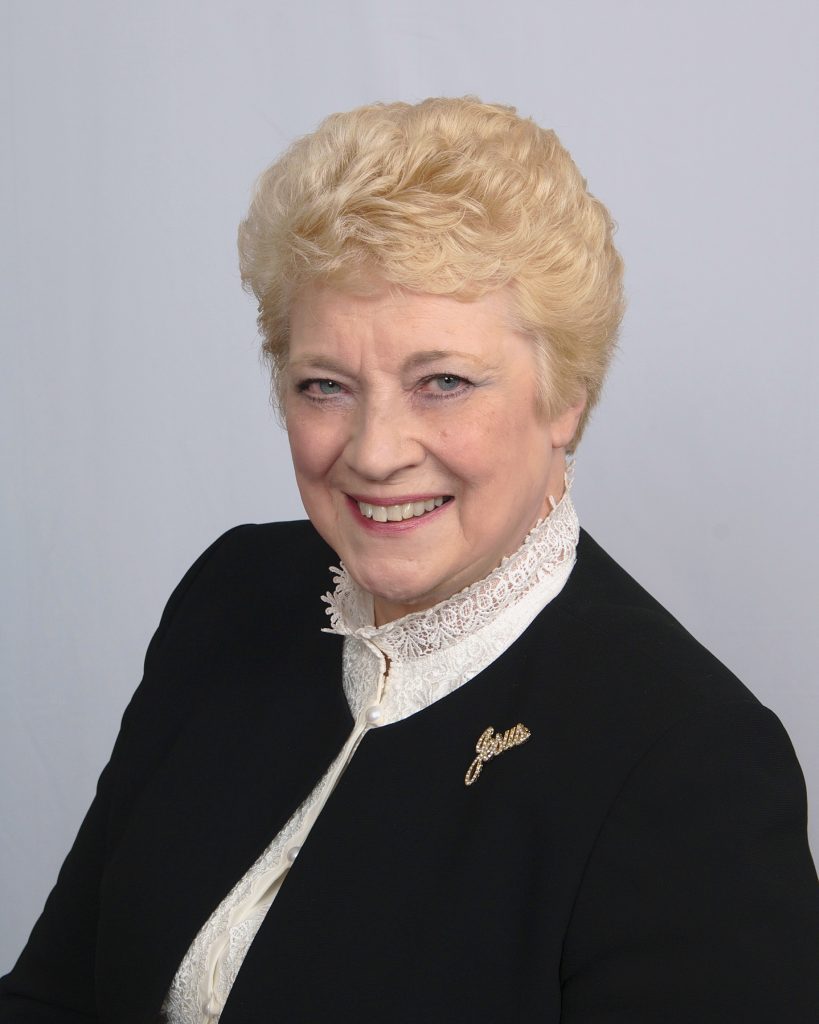 Sylvia Evans loves the Word — and makes it live for all who hear. An in-depth Bible teacher with prophetic anointing, she seeks the Lord for a "word in season" for each occasion as she ministers in churches, conferences, retreats, Bible schools, and leadership seminars throughout the US, Canada, and other nations around the world. The Founder and Director of Creative Word Ministries, she has been taking the "Creative Word" to the world since 1975.  She is also a "Missionary-at-Large" for Elim Fellowship and is an instructor at Elim Bible Institute and College in Lima, New York, USA.
Sylvia's Family & Ministry Background
Sylvia's preparation for ministry and her lifelong relationship with Elim began with her parents, Rev. and Mrs. A. Daniel Evans, who met as students at Elim in 1933, married in 1936, were both ordained in 1937, and served as pastors together for 52 years. Living in Lima, they continued to minister in many ways after their retirement in 1988. (At ages 92 and 93, first her Mom and then her dad went to be with the Lord in early 2008.) From their early years, they had trained their children in the Word and in service to the Lord, involving them in ministry. Sylvia's oldest brother, David, pastored in Michigan for 31 years before his death in 1990. Bernard, also a pastor, served as President of Elim Fellowship for twelve years. Joel has served in various ministries, including music and worship.
Sylvia's Educational & Professional Background
Living on campus at Elim at several intervals in her life, Sylvia often attended conferences and took several Bible courses at Elim Bible Institute & College, but she studied formally at Houghton College, a Christian liberal arts college in Western New York. There her training included Bible and Greek courses and practical involvement in ministry, music, and missions preparation.
Having graduated from Houghton with a B.A. degree in classical languages (Latin and Greek), with minors in English and secondary education, she took additional studies in literature, linguistics, and music at several universities in New York, Florida, and Georgia throughout her fourteen years of teaching. She first taught at Houghton Academy and part-time at Elim, while expecting appointment as a missionary teacher in Kenya, East Africa. When political change closed that door, she taught one year in Florida, then was invited to settle in Waycross, Georgia, in 1965, as a high school teacher of Latin and English. Shortly thereafter she added the fields of choral music and drama. The name 'Sylvia Evans' became known in the South Georgia area as a choral director and producer of dramas and musicals in both schools and churches, as well as a speaker and singer for diverse programs.
Her involvement in ministry was first part-time, alongside teaching, as she served as choir director and Bible teacher in local churches and ministered inter-denominationally in the Waycross community. Then she entered full-time ministry on staff as Director of Music, Youth, and Teaching for First Presbyterian Church; then as Co-founder and Director of Counseling for the One-Way House, an inter-faith Christian help-center housed at the Assembly of God Church; then as Founder of Creative Word Ministries. She also later co-founded the Sacred Arts Center, a community project based at Trinity United Methodist Church, where she had also served as interim choir director and then become a member.
As a professional teacher and a community leader in Waycross, Sylvia received numerous awards, including the Valley Forge Teacher Medal and the National School Award from the national Freedoms Foundation, the S.A.R. Silver Good Citizenship Award, and listing in Outstanding Young Women of America. She was the first woman to receive the Outstanding Community Service Award in the Area of Religion for Waycross-Ware County, Georgia, where she was also named Professional Woman of the Year in 1976, just after founding Creative Word Ministries. Though Sylvia presently lives most of the year in Lima, NY, she continues to count Waycross as a place to call "home" in her heart, and she returns often to the home of Dorothy Jones, who together with her late husband, Fred, first invited Sylvia to move to Georgia. They counted her as the first of their "chosen children," part of their "made-up Georgia family."
Affiliation with Elim Fellowship and Elim Bible Institute & College
Elim Fellowship, based in Lima, New York, is a worldwide association of ministers, missionaries, churches, and ministries. Sylvia was licensed for ministry by Elim in 1976 and ordained in 1982. For nine years, from 1986 to 1995, commuting from her home base in Georgia, she served in leadership positions with EF – as the Executive Director of the Women's Department, as a member of the Board of Administration and of the U.S. Ministries Department Committee, and as a conference leader and speaker. For fifteen years she was on the ministry team for Mobilized to Serve, a national singles ministry based at Elim. In 1995, affirming the Lord's commissioning, the Council of Elders released her from administrative responsibilities, with their blessing, to "go to the larger Body of Christ."
Sylvia has taught on the faculty of Elim Bible Institute & College at three different times, in 1963-64, in 1977, and from 1997 to the present, on a part-time basis. For several years, she also served on the Board of Directors for the school. For many years she has been invited to participate on the ministry team for the "Season of Prayer," a week of prophetic and personal prayer ministry to graduates, and has spoken often for the "Oasis" family camp and other Elim conferences.