Rev. Sylvia R. Evans invites all women to join her and the Creative Word 
Ministries Team for a Weekend of Worship and the Word.
[Click Here for Full Retreat Brochure and Registration Form]
For More Information:
Creative Word Ministries
PO Box 551, Lima, NY 14485
CWMRegistrar@aol.com
Registrar: Tess — (585) 314-6530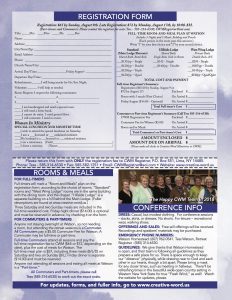 Watson Homestead Conference & Retreat Center
9620 Dry Run Road
Painted Post, NY 14870
(607) 962-0541 
Instructions for Paying Online:
Select "Custom Donation" by clicking "Donate."

Type in your retreat payment* and select either "Pay with PayPal" (if you have a PayPal account with which you want to pay), or "Pay with Debit or Credit Card."

After selecting one of those options, you will see under your amount a small section (with a picture of a pencil) that says, "Add Instructions for Creative Word."  In that section type, "Watson Registration."

Fill in your information and submit payment
*PROCESSING FEE:  Payments made online will be subject to a processing fee.  
If paying ONLY for registration (not for lodging and meals), please add $2 to your cost when paying online.  

If paying for full-time attendance and registration, please add $6 to your total cost.

If paying ONLY for part-time attendance and registration, please add $3 to your cost.